Best Appsumo Deals – Would you like to know the best AppSumo deals in July 2021? You've come to the right place. AppSumo has long been one of the best places for online entrepreneurs to find the best tools at affordable prices.
So, whether you are a small business owner or a blogger, you will find tools that will help you in growing your business.
AppSumo functions as a Groupon platform, bringing the best deals to online entrepreneurs.
AppSumo is a superb platform for bloggers and online marketers. They can search for the best products and tools to manage their marketing-related activities.
The best part about using AppSumo is that it provides amazing discounts; most of the time, you will find approximately 98% off on their website.
Most people, buy AppSumo offers for a lifetime and skip monthly or yearly renewals. There will be no more inconvenient and costly renewals. You can use the tool or service as long because it is still available on the market.
Before we start, I'd like to point out that AppSumo offers weekly deals.
That means they update their offers and post best AppSumo deals weekly. And we update this page every week so you don't miss out on any AppSumo sales.
Most of these offers will be sold out within a week (within 7 days) of their AppSumo launch.
That is why you should catch those AppSumo deals as soon as possible, and we will update this post with the new best AppSumo offers are in July 2021, so please bookmark the page for future reference.
Now let's get to the deals
10 Best Appsumo Deals in July 2021
ADYOUNEED
ADYOUNEED: Create, test, and optimize agency-quality ads on Facebook, Instagram, and Google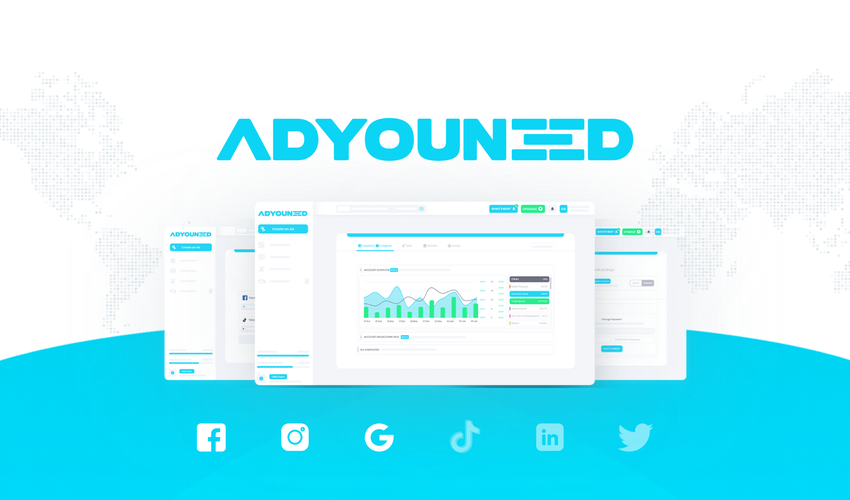 ADYOUNEED Social Media Ads and Search Platform is a place to create and optimize ads in minutes, with features that automate your advertising processes.
Brilliant Directories
Brilliant Directories: Launch, manage, and monetize your own membership website to dominate your market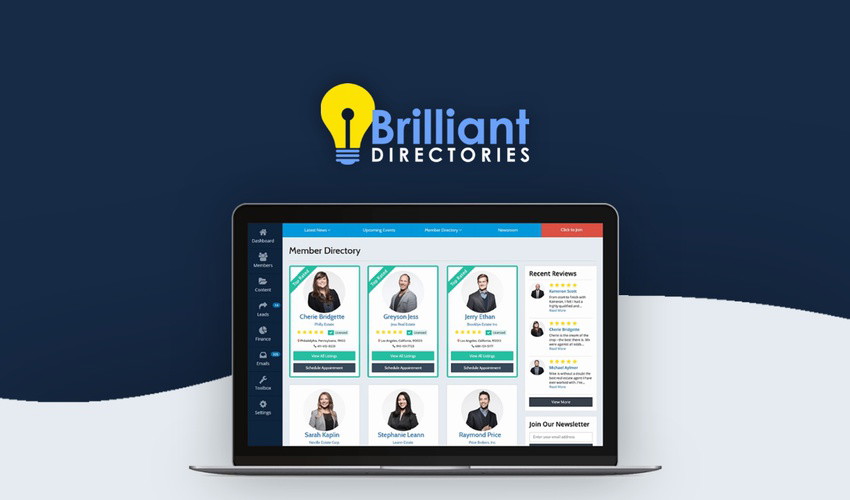 Brilliant Directories offers a complete turnkey platform in the form of software and services, for launching membership websites with all the functions and abilities of a membership website, as well as other functions that are included in the software and services, such as membership management, publishing content, selling subscriptions, and more.
WP Reset
WP Reset: Reset, recover, and repair your WordPress site in no time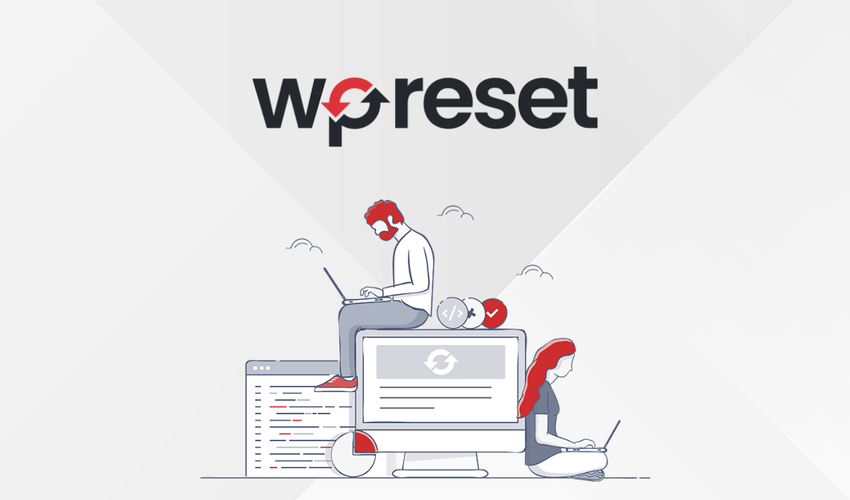 WP Reset is a WordPress plugin that collectively installs themes and plugins, resets defaults, and takes snapshots of your website.
Sitejet
Sitejet: Unlock an all-in-one web design suite with a website builder, project manager, and customer collaboration tools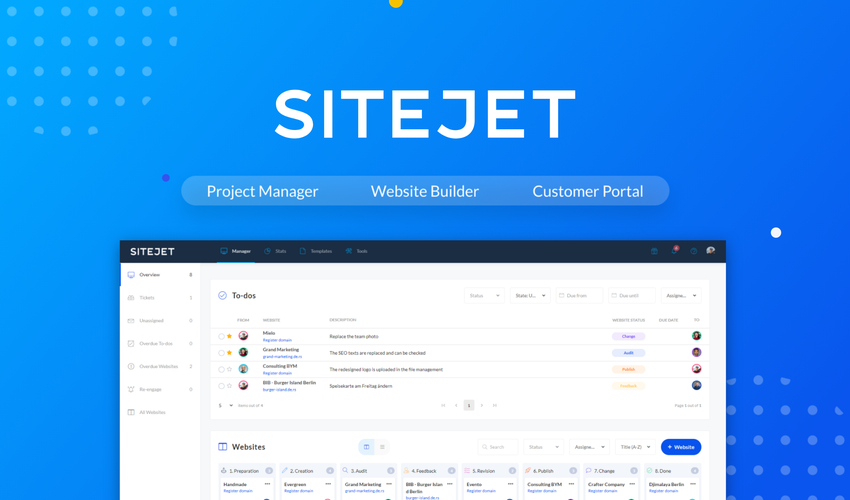 Sitejet is a browser-based web design suite, allows its users to take full advantage of the project management, automation, and website design features in a lightweight yet powerful environment.
SalesBlink
Salesblik: Close deals at lightning-fast speed by finding professional emails, enriching domain data, and automating cold outreach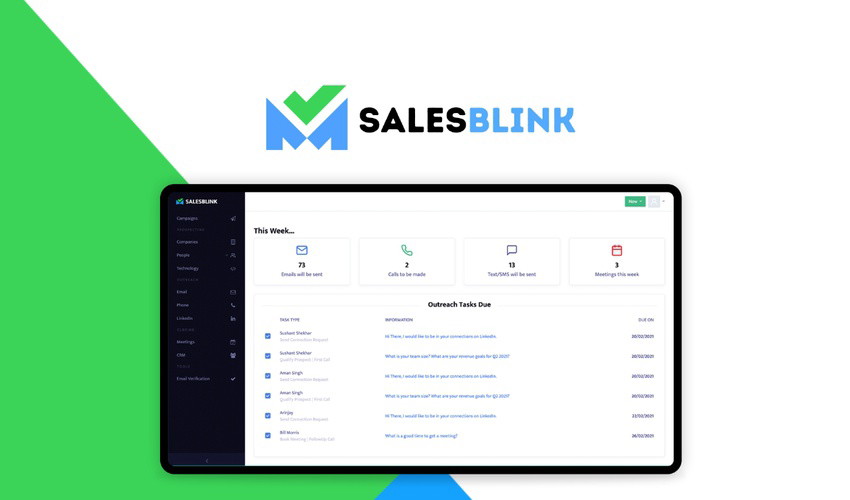 SalesBlink is a digital platform designed to automate outreach and connect you to the right people for the most productive leads.
10 Best Appsumo Deals in June 2021
10 Best Appsumo Deals in May 2021
10 Best Appsumo Deals in April 2021
Encharge – Best Appsumo Deals
Encharge is in top choice of best AppSumo deals. is a marketing automation platform that uses a drag-and-drop flow builder and native integrations with major CRMs to deliver behaviour-based emails.
It allows you to build user segments based on real-time data from your website, products, and marketing tools.
Data from your CRM, billing network, appointment scheduler, and other systems can also be converted into actionable campaign segments. It integrates with hundreds of tools, including Facebook Advertising, Typeform, HubSpot, and Salesforce, to name a few.
PROS:
Fantastic User Interface
Very useful templates to build the automation flows
Built-in Email Verification
Excellent Help & Support documentation with detailed video tutorials
CONS:
Needs more native triggers integrating with other tools
Might not be a good fit for industries like e-commerce
2. MetaBox – Best Appsumo Deals
Meta Box used by developers and agencies to expand the functionality of their themes, but anyone can install it and enjoy all this. It's the first custom fields plugin for developers, and it was released in 2010.
Meta Box is a free WordPress Custom Fields Plugin designed to provide clever custom results to developers and website owners.
The plugin conforms to the most updated Gutenberg and GDPR guidelines, and the framework facilitates the task of customizing a website with Meta boxes and custom fields in WordPress.
In addition, It is very well for assisting users in dealing with custom fields and simply. The plugin has received over 100 five-star ratings and has over 500.000 active installs. So, don't wait and just grab this deal right now.
PROS:
Fast and lightweight
Lightweight
Integrated
Library of actions & filters
Open-source
CONS:
Need some technical background expertise
3. ReportZ – Best Appsumo Deals
Reportz is a white-label client reporting and data monitoring platform designed for marketers by marketers to reduce the stressful and time-consuming client reporting process to a matter of minutes and clicks.
Users may share white-labelled report links with clients or superiors and provide them with a detailed overview of changes in tracked metrics and goal progression.
Reportz also allows the user to select date ranges and the number of widgets they want to combine on a single dashboard.
This app aims to save users time by combining metrics and information from different sources into a single location.
Using this tool, you can create automated, real-time, informative, measure reports in the form of completely customizable dashboards and widgets, as well as set KPIs once.
PROS:
Simple to use.
All in one reporting tool.
Excellent templates and custom widgets.
Easy integration, quick info and KPIs
CONS:
It takes some time to get used to the new tool, as with all others.
4. Beagle Security Lifetime Deal
With intelligent website security monitoring, BeagleSecurity assists online businesses in shielding their websites from security threats. Additionally, It will automate vulnerability assessment, speed remediation, and protect the web applications from the most current security holes.
Beagle Security can detect complex attack vectors that WordPress vulnerability scanners miss. Vulnerability scanners provide fast scan results but are not intended to detect modern security threats.
Beagle Security performs in-depth penetration tests on your website and discovers all of its flaws by leveraging an AI-powered core.
You get insights into the occurrence of each vulnerability on your website, as well as actionable advice on how to fix the discovered security issues and protect your website, with evidence-based vulnerability reporting.
Your security measures can be scheduled on a weekly or monthly basis to perform regular vulnerability assessments and maintain the website's security.
PROS:
Provides easy to understand PDF report.
UI seems clear, It is easy to understand.
Seems nice enterprise-grade application.
Great interface: easy to understand
Easy advice in the scan results
Great PDF report
CONS:
White label is not available for reporting only thing that was missing.
5. Picter Lifetime Deal
Picter is a task management tool that allows teams to organize, review, approve, and share creative assets with team members and clients.
This app assists teams in organizing all of their visual assets into a single location where they can exchange visual content with team members and clients.
Furthermore, it simplifies the analysis, feedback, approval, and distribution processes by removing the need to sift through various resources and communications to gather feedback.
PROS:
Nice UI, easy to use, great support.
Video commenting made easy.
Fast and efficient.
Slick preview and presentations.
CONS:
6. Pixelied Lifetime Deal
Pixelied is a simple design solution that enables users to create beautiful ready-made designs from a variety of formats, as well as access to millions of stock images, icons, and illustrations.
It offers a full suite of design editing tools, such as a context remover and product mockups, for the most common business applications.
Pixelied is a full set of image editing software for use in your design projects. You don't need to hire any designers – all you need is Pixelied.
It is a powerful design tool with a large library of templates, icons, diagrams, images, colour palettes, and vectors.
PROS:
Library of professional templates
Millions of stock photos and icons
Professional filters and effects
One-click image background removal
Fast UI and UX
SVG and other formats compatibility
CONS:
Low BG removal credits
Slow updates
7. Spott Lifetime Deal
Spott is another lead generation tool that seeks to modify what your audience interacts with your content. Besides, it allows you to create interactive content, distribute it across various channels, and track its success along the way.
Adding interactivity to your images with Spott is as simple as dragging and dropping the feature onto the content.
Its ease of making and publishing interactive videos and images allows users to play with more complex features. For instance, considering the granular choice or CSS style customization.
Spott could, however, develop its onboarding to better explain how to use social media sharing. To understand Spott's use cases on Facebook and Instagram, users will face a learning curve.
It also contains interactive elements such as calls-to-action, connections, and tagged items to entice viewers to take a specific action on your content.
PROS:
Customized images and videos.
Create engaging content
Tag your media
Publish & share on multiple platforms
Add interactive elements
CONS:
8. Alugha Lifetime Deal
Alugha is a video translation platform that automates the creation and collaboration of high-quality content for audiences. It manages the entire translation process without ever leaving its online workspace, Dubbr.
After you've uploaded your video, you can either transcribe it yourself or use the AI Buddy to generate a transcript for you.
Hence, it is as easy as adding new tracks and then translating the script into the target language to add new languages. After you've translated and transcribed the text, you can also move on to the fun part: voice-overs.
PROS:
Easy translation without the need for employees or freelancers to translate your videos.
Saves money on monthly hosting packages.
Saves money on freelancer and employee salaries.
It can automatically generate a transcript in other languages.
You can customize the player branding according to your brand.
It also supports embedding on Twitter, Medium, Kickstarter, and other popular platforms.
Moreover, It will automatically recognizes the viewer's preferred language
CONS:
Website UI and Navigation can be better.
No instructions on how to use the tools.
9. Marquiz:
Marquiz allows you to create an online quiz in under 15 minutes to catch eligible leads and recommend the best products or services.
In just 15 minutes, you can create an online quiz to capture eligible leads and recommend the right products or services.
Besides, Marquiz allows you to choose from 11 different types of quiz questions to help your audience understand their needs.
You can learn more about your audience while they learn more about themselves by using text answers, photos, choices, number ranges, emojis, as well as other tools.
PROS:
Integrations can be associated at the quiz level to feed the leads captured
Each quiz answer has points that can be associated with each specific quiz answer
A/B testing support feature is in place
The layout can be changed
Completed quizzes look amazing and highly professional
UI and UX are exceptional
Webhooks are in place, and so is integration with Telegram, FB Pixel, Google Analytics, custom code, and few others
CONS:
Website UI and Navigation can be better.
No instructions on how to use the tools
10. Signaturely Lifetime Deal
Signaturely allows you to make, email, sign, and store legally binding online signatures on digital documents. So, by simply uploading your document to the platform or use one of the given templates, which have all been checked by legal experts and proofreaders.
Once you've completed the paper, use the intuitive online editor to add the signature fields, and you'll be ready to go. You may set up alerts to watch whether documents have been signed or to see who is missing a signature.
There's even the option to include a signature order, which will transfer the document to the next signee automatically.
Your online signatures are just as legal as handwritten, with the added advantage of a digital stamp that can be traced back to the signees and date for added security.
PROS:
The Mobile version is also available, and it allows us to send the approvals remotely.
It ensures the ease and efficiency of the signing process for signers.
The blank boxes are very easily filled with just clicks.
It reduces human error since it guides signers through the whole process. Without successful signatures, signers won't be able to submit the documents.
One-Click Reminders
CONS:
No way to export the activity log
No option to add the company's stamp as an image
Conclution for Best Appsumo Deals in July 2021
In conclusion, we see that app sumo is the perfect way to find amazing offers on common apps and business tools. Every week, they launch new product reviews, and the deals are simply fantastic.
That's why we have spent several hours writing this post and have done our best to provide you with the best list of AppSumo deals (some of which are lifetime deals) that are useful for bloggers and internet marketers (or we can say digital marketers as well).
The ONLY thing you need to remember here is that all of the tools mentioned above will expire one week after the launch, so make sure you choose the right product for your business and make the most of it.
Hence, we hope you enjoyed these best AppSumo deals in July 2021 deals, and now we'd like to hear from you.